How to Drape a Saree | The Nivi Drape ✨
Introducing traditional Nivi Drape Tutorial for beginners!
Products used:
Step #1:
Find the matching Saree Silhouette to your Saree. The Saree Silhouette allows you to achieve a beautiful mermaid shape as you drape while holding the pleats in place, and makes the whole Saree wearing experience super comfortable!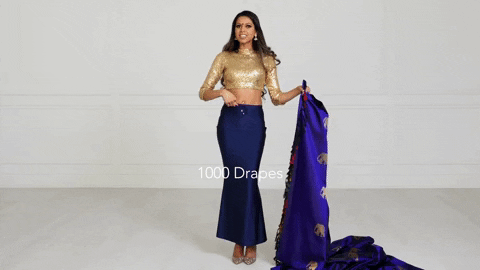 Step #2:
Establish the base of your Saree and tuck your Saree into your Saree Silhouette ensuring that it lies flat against your body.
Step #3:
Tuck, tuck, tuck once all the way around.
Step #4:
Gather your Saree and put the pallu over your left shoulder. Take the edge of the Saree closest to your body and bring it back to the front of your waist and tuck it in.
Check out our Pallu pleating tutorial here! 
Step #5:
With the loop of fabric you have left you can start pleating. Make sure to bring the fabric over to the right of your belly button before pleating.
See our tutorial below on how to get those perfect pleats! 
Step #6:
After pleating, make sure the left most pleat is to the right of your belly button so you can keep all the pleats in the centre. Once you've centred your pleats, you can pin it together and tuck it in.
Step #7:
Take any loose fabric and tuck it in, then fan out the pleats at the top half of your body.
Step #8:
Pin your pallu to your shoulder and Voila! Your very own Nivi Drape!
See our full tutorial on youtube here!