How to Drape A Saree | The Infinity Gujarati Drape
Learn how to do the Infinity Gujarati Drape!
Products Used:
Step #1:
 Iron the entire saree.
Step #2:
Tuck the saree around once.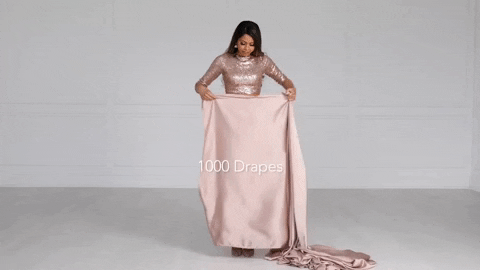 Step #3:
Get back to the other end of the saree and pleat the pallu.
Step #4:
Place the pleated pallu over your left shoulder coming to the front, stopping  around knee length. Pin the pallu at your shoulder.
Step #5:
Take the leftover fabric and start taking front pleats.
Step #6:
Once you're ready to tuck in the front pleats, you want to make sure some fabric hangs between the front pleats and the pallu. Adjust your pleats as necessary.
Step #7:
When you tuck in the front pleats, secure the pin so it's at the back of the pleats. *This portion of the saree will be visible as no pallu will cover it*
Step #8:
Tuck in the excess fabric. *Take fabric from right to left and tuck*
Step #9:
Add a waist chain to finish off the look, and there you have it the Infinity Gujurati Drape!